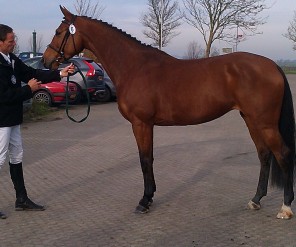 Fitty Firenze C (Numero Uno x Vitty Valente C) was the best jumper in the IBOP assessment. She got a top score of 83 points, with for example a 8.5 for canter, scope and attitude and even a 9 for rideability. Afterwards Fitty Firenze C was promoted to Ster mare accompanied by the fantastic score of 85 points for conformation.
Some quotes from the media:
Horses.nl – November 26, 2014
Numero Uno daughter outlier IBOP Barsingerhorn
On the last IBOP held in Barsingerhorn Fitty Firenze C (Numero Uno x Placido) was the absolute highlight of the day of the jumping mares. The four year old mare got the high score of 83 points.
The jury consisting of Dirk Reijne, Arnold Kootstra and Henk Dirksen had seven jumping mares for review that all passed their IBOP test. Numero Uno daughter Fitty Firenze C was the only jumper in Barsingerhorn who scored over 80 points. Fitty Firenze C was nicely presented by Marcel Beukers, she got three times the figure 8.5 for canter, scope and attitude and a whopping 9 for rideability.
KWPN.nl – November 27, 2014
The best jumper of the day also received a top score: Fitty Firenze C (Numero Uno x Vitty Valente C Ster PROK f.Placido, breeder M.A.M. Lamers-Couwenberg, owners M. Smith and C. Spapens from Aalsmeer) got 83 points including a 9 for rideability. "A very nice horse that was very good to ride and with a very good canter and very good reflexes and a good technique. Moreover she seems to have a lot of scope. She continiously looks carefully at the obstacles. She jumps quickly from the floor and beautiful in the body. A complete horse. "After the test the mare got 85 points for exterior and became Ster. The dam line is very interesting, with grandmother Citty stb pref prest (f.GRamiro Z) who has given the Grand Prix show jumpers Sitty (f.Monaco) P.Titty 9 (f.Come On) and the international jumpers Cincitty C (f.Numero Uno) and Littus R (f.Concorde). Also she is grandmother to quite a number of famous showjumper horses.
Gradebook – Total 83 points
Step 7.5 – Trot 8 – Posture & balance 8 – Canter 8.5 – Reflexes 8 – Technique 8 – Scope 8.5 – Attitude 8.5 – Rideability 9 – Overall 8
https://showjumperbreeding.com/wp-content/uploads/2014/12/2014-11-25-Marlien-Smit-296x247-IBOP-november-2014.jpg
247
296
Monique Lamers-Couwenberg
https://showjumperbreeding.com/wp-content/uploads/2013/09/logo_jumpinghorses-300x137.jpg
Monique Lamers-Couwenberg
2014-12-06 19:14:41
2014-12-07 21:16:51
Fitty Firenze C outlier riding test